1024
Hand Held Metal Detector ThruScan dX-X
Designed to detect weapons, knifes and other metallic threat objects made of magnetic and non-magnetic metals carried on people.
International Norms (NILECJ-0602.02 L1-5/IP53/EN60950 Class1), In Conformity to CE and in Compliance with EN61000-6-3, EN61000-6-1 being produced under ISO 9001:2015 QMS.
Conformity to ECAC(European Civil Aviation Conference) (Doc. 30) Latest Standards (TS 2418 EN 61010–1) Safety requirements for electrical equipment for measurement, control, and laboratory use (EN 61000–6.3)
Emission standard for residential, commercial and light-industrial environments (EN 61000-6.2) Immunity for industrial environments, Compliance with IEEE C 95.1 IEEE Standard for Safety Levels with Respect to Human Exposure to Radio frequency Electromagnetic Fields, 3 kHz to 300 GHz Standard as per its Operation Frequency Limits
Peculiar Elinno Design
Can detect all ferromagnetic, para magnetic and geomagnetic metals. Does not give alarm to human body when magnetic/non magnetic or metals and/or alloys not carried
Auto Calibration (Automatically Calibrates itself to environment)
Human Health friendly Very Low Frequency VLF technology, does not affects to Pace Makers,Pregnant woman and Magnetic Media (Certified)
40 hrs Operation at 10% Alarm Ratio and 50 hrs Operation on Stand By with a single charge
Complete Set with 9 V NiMH Rechargeable Battery, 220 V AC Charger, Belt Holder and Wrist Stripe
Alarm Indication Modes can be; Visual LED Indication, Audio-Visual Indication and Vibration (Optional)
Earphone can be used for silent Operation Mode. Earphone socket is a Standard Supply and the Earphone itself is Optional. Audio Alarms can be heard from earphone when used.
5 Level LED Vu-Meter Audio-Visual Alarm indications
Sensitivity Adjustment with Visual LED Vu-Meter Display. When in operation, touch button membrane keys (Up/Down) are used to increase and decrease the sensitivity (1st LED lowest sensitivity, 5th LED highest sensitivity).
Very low consumption Stand-By 4 mA, max 13 mA at alarm.
Certified Safe for wearers of pace makers, Pregnant Women and Magnetic Storage Media
No false alarms caused by another Hand-Held Metal Detectors in operation min. 1 m distance Efficient control at heel level searches, no interference from rebar inside concrete floor. Considering the reference detection surfaces, there will be no sound or light alarm for caused by the rebar at a height of 30 cm.
The dX-X does not give alarm for (1 m±0,1 m)x(1 m±0,1 m) size 0,75 mm±0,13 mm thick iron sheets at a distance of 50 cm
Audio Alarm Tone change as per the distance of the detected objects
Produced with SMD Technology.
Made of impact resistant robust ABS Material against drop and crashes
Perfectly operates between -20°C and + 70 °C at 95% non-condensed humidity
Audio-Visual Low Battery Indication, 5 Level LED Vu-Meter Battery Level Display with Audio Indication. Battery can be changed by opening the battery compartment only. Battery can be charged easily without removing the battery using the charge adapter.
Protective circuitry design against reverse connection of the battery.
Battery can be replaced easily without using any tools.
The HHMD has an ergonomic design enabling continuous use and easy handling with one hand only.
Two detectors set to operate at maximum sensitivity levels does not interfere with each other at a distance of 50 cm
Does not interfere with DECT phones, mobile phones, etc. devices
Each equipment, has written Brand/Model Name and Serial No. information on it
Each equipment is being provided with a Brochure, Warranty Card and User's Manual
2 Years Warranty and 10 Years Parts Supply Availability as per our "General Conditions of sales, Delivery & Warranty"
---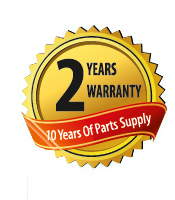 | | |
| --- | --- |
| Test Object | Min. Distance |
| 9 mm MKE Pistol | 35 cm |
| AM 7 (NILECJ Metal) | 27 cm |
| AN 7 (NILECJ Metal) | 25 cm |
| Paper Blade (2 x 13 cm) | 17 cm |
| 2 EUR Coin | 18 cm |
| 9 mm Bullet (rifle) | 15 cm |
| Needle/Pin | 5 cm |
---
Technical Features: Package (w x l x h)
Operation Voltage: 9V – Alkaline or Ni-Mh Battery Dimensions: 5 x 41 x 9 cm
Current: 4 mA Stand By- 13 mA Alarm Weight: ~ 420 gr.
Operation Temperature: -20°C - +70°C 95% non-condensed humidity Gross Weight: ~ 450 gr.
Storage Temperature: -30°C - +75°C
---